ALPHABETICAL LISTING OF NYLON & ACETAL SUPPLIERS


EHPCO, Inc.
107 Providence St.
Putnam, CT 06260
Phone: 860-928-0595
Fax: 860-928-1821
Web: www.ehpcoinc.com
Contact: Ellis H. Paine, President
Extruded coil, strip and flat sheets of Nylon, Delrin® AF, Acetal, ABS, Polycarbonate, Polyurethane, Styrene, Polyesters, Glass filled and other thermoplastics from .010 to .187 thick and 1/4" to 28" wide on most materials.


---

Ensinger, Inc.
365 Meadowlands Blvd
Washington, PA 15301
Phone: 800-243-3221 / 724-746-6050
Fax: 724-746-9209
Contacts: CENTRAL: Ken Pitchok, National Sales Manager
WEST: Martin Wood, Western Region Sales Manager
EAST: Bryan Davis, Eastern Region Sales Manager
Engineering plastic stock shapes, profiles and finished parts. Extrusion, casting, injection and compression molding processes, reinforced and unreinforced base materials from acetals and nylons to high performance materials. ISO 9001:2008 certified.


---
GEHR Plastics Inc.
24 Creek Circle
Boothwyn, PA 19061
Phone: 610-497-8941
Fax: 610-497-8901
E-mail: info@gehrplastics.com
Web: www.gehrplastics.com
Contacts: Bill Shields, Vice President
Myra Carroll, Secretary and Treasurer
GEHR Plastics Inc. is a worldwide leader in the extrusion of semi-finished Thermoplastics. GEHR offers acetal rod in copolymer black and natural. Electrostatic dissipative and solid lubricant filled versions are also available. Acetal rod is available from 1/4" to 20" in natural and black color in 4 and 8 foot lengths in addition to the standard 5 and 10 foot lengths. Acetal ESd rod is offered from 1" to 3" in natural color. Sheets are sized 24" x 96" and 48" x 120" from 1/4" to 4" in natural and black color. GEHR also extrudes rod, slab, profiles and tube in a wide range of thermoplastics.


---


Hi-Tech Profiles, Inc.
15 Gray Lane
Ashaway, RI 02804
Phone: 800-342-5495
Fax: 401-377-2423
E-mail: info@hitechprofiles.com
Web: www.hitechprofiles.com
Contacts: Brian McGregor, Sales Manager
Tanya Umphlett, Sales
Specializing in two and one half inches O.D. and smaller tubing, hollow rod and bushing stock. A large selection of Nylon and Acetal in stock and available to ship same day. Custom sizes available in Nylon (6, 6/6, 610, 612, 11, 12, MDS) Acetal, ABS, ECTFE, ETFE, HDPE, HIPS, LDPE, LLDPE, PBT, PET, PETG, PC, PS, PSU, PVC, PVDF, TPE, TPU and TPV.


---


Nylatech, Inc.
P.O. Box 455, 406 Lincoln St.
Everson, WA 98247
Phone: 800-506-9566
Fax: 360-966-5319
E-mail: nylatech@nylatech.com
Web: www.nylatech.com
Contacts: Calvin Petersen, Sales
Jennifer Bronkema, Jereme Hakala, Sales
Specializing in manufacturing cast nylon 6 and 6/12 as rod, sheet and tubular bar as well as finished or semi-finished custom cast components.


---


Petro Extrusion Technologies, Inc.
490 South Avenue
Garwood, NJ 07027
Phone: 800-229-3338
Fax: 908-789-0434
E-mail: rpetro@petroextrusion.com
Web: www.petroextrusions.com
Contacts: Fran Stricker, Sales
Jos. D. Petrozziello, Sales
Petro Extrusion Technologies offers custom and stock extruded products, using virtually all engineering grade thermoplastics, including Nylons 6 & 12, Polycarbonates, Acrylics, Urethanes, PP, PP, Barex and specialty grades. In addition to extensive custom capability, Petro offers several STOCK line products, including the Nyla-Glide GR MDS-filled Nylon profiles, 6 Stock Acrylic Profiles, as well as some polypropylene and PVC/Urethane tube sizes and PVDF tubing sizes.


---


Quantum Polymers
211 Executive Drive, Suite 1
Newark, DE 19702
Phone: 877-737-7012 / 302-737-7012
Fax: 302-737-7035
E-mail: info@quantum-polymers.com
Web: www.quantum-polymers.com
Contact: Ellen Witherspoon
Quantum Polymers specializes in the manufacture of stock shape plastics products in the form of rods, plates and tubular bars as well as machined components. Stock shapes and machined components are made out of engineering plastics, high performance plastics and custom formulated plastics materials. The stock shape products are available in standard and custom sizes in short delivery times. Quantum also develops custom stock shape products for the most demanding applications - those that require physical, mechanical and electrical properties beyond the reach of standard off-the-shelf plastics.


---


Röchling Engineering Plastics
903 Gastonia Technology Parkway
Dallas, NC 28034
Phone: 704-922-7814
Fax: 704-922-7651
E-mail: info@roechling-plastics.us
Web: www.roechling-plastics.us
Contact: Tim Brown, VP of Marketing and Business Development
Röchling Engineering Plastics offers a full range of engineering plastic stock shapes and high-performance materials. Choose from an extensive inventory of standard and special grades – including acetal, nylon extruded and cast), PEEK, PPS, PEI, PSU, PVDF, PET, PC, PPO and ABS.


---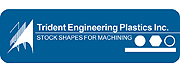 Trident Engineering Plastics, Inc.
7900 N. Radcliffe Street, Bldg. 107
Bristol PA 19007
Phone: 800-427-4451 / 215-946-3999
Fax: 215-946-0333
E-mail: tepi@tridentplastics.com
Web: www.tridentepp.com
Contact: Dean Cadic, General Manager
William Marmer, Manager
Trident Engineering Plastics produces TRIZOD® polycarbonate sheet in machine grade up to 4.00" thick, optical grade up to 2.00" thick, 48" x 96" sheets. Trident also produces compression molded sheet made from DELRIN® Acetal homopolymer, CELCON® Acetal copolymer, NORYL® PPO, and CYCOLAC ABS in a variety of sheet sizes: 24" x 48", 48" x 96", 48" x 120" and 60" x 120".