ALPHABETICAL LISTING OF NYLON & ACETAL SUPPLIERS


Ensinger, Inc.
365 Meadowlands Blvd
Washington, PA 15301
Phone: 800-243-3221 / 724-746-6050
Fax: 724-746-9209
Contacts: CENTRAL: Ken Pitchok, National Sales Manager
WEST: Martin Wood, Western Region Sales Manager
EAST: Bryan Davis, Eastern Region Sales Manager
Engineering plastic stock shapes, profiles and finished parts. Extrusion, casting, injection and compression molding processes, reinforced and unreinforced base materials from acetals and nylons to high performance materials. ISO 9001:2008 certified.


---


Hi-Tech Profiles, Inc.
15 Gray Lane
Ashaway, RI 02804
Phone: 800-342-5495
Fax: 401-377-2423
E-mail: info@hitechprofiles.com
Web: www.hitechprofiles.com
Contacts: Brian McGregor, Sales Manager
Tanya Umphlett, Sales
Specializing in two and one half inches O.D. and smaller tubing, hollow rod and bushing stock. A large selection of Nylon and Acetal in stock and available to ship same day. Custom sizes available in Nylon (6, 6/6, 610, 612, 11, 12, MDS) Acetal, ABS, ECTFE, ETFE, HDPE, HIPS, LDPE, LLDPE, PBT, PET, PETG, PC, PS, PSU, PVC, PVDF, TPE, TPU and TPV.


---


Nylatech, Inc.
P.O. Box 455, 406 Lincoln St.
Everson, WA 98247
Phone: 800-506-9566
Fax: 360-966-5319
E-mail: nylatech@nylatech.com
Web: www.nylatech.com
Contacts: Calvin Petersen, Sales
Jennifer Bronkema, Jereme Hakala, Sales
Specializing in manufacturing cast nylon 6 and 6/12 as rod, sheet and tubular bar as well as finished or semi-finished custom cast components.


---


Petro Extrusion Technologies, Inc.
490 South Avenue
Garwood, NJ 07027
Phone: 800-229-3338
Fax: 908-789-0434
E-mail: rpetro@petroextrusion.com
Web: www.petroextrusions.com
Contacts: Fran Stricker, Sales
Jos. D. Petrozziello, Sales
Petro Extrusion Technologies offers custom and stock extruded products, using virtually all engineering grade thermoplastics, including Nylons 6 & 12, Polycarbonates, Acrylics, Urethanes, PP, PP, Barex and specialty grades. In addition to extensive custom capability, Petro offers several STOCK line products, including the Nyla-Glide GR MDS-filled Nylon profiles, 6 Stock Acrylic Profiles, as well as some polypropylene and PVC/Urethane tube sizes and PVDF tubing sizes.


---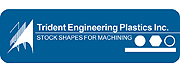 Trident Engineering Plastics, Inc.
7900 N. Radcliffe Street, Bldg. 107
Bristol PA 19007
Phone: 800-427-4451 / 215-946-3999
Fax: 215-946-0333
E-mail: tepi@tridentplastics.com
Web: www.tridentepp.com
Contact: Dean Cadic, General Manager
William Marmer, Manager
Trident Engineering Plastics produces TRIZODŽ polycarbonate sheet in machine grade up to 4.00" thick, optical grade up to 2.00" thick, 48" x 96" sheets. Trident also produces compression molded sheet made from DELRINŽ Acetal homopolymer, CELCONŽ Acetal copolymer, NORYLŽ PPO, and CYCOLAC ABS in a variety of sheet sizes: 24" x 48", 48" x 96", 48" x 120" and 60" x 120".