Polyolefin Spotlight

Anti-stated, Polypropylene
TECAFINE™PP (polypropylene) is an antistated, poly propylene, random copolymer polyolefin engineering plastic providing excellent chemical resistance and high purity.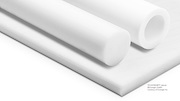 The material exhibits better mechanical properties than other typical polyolefin materials, is light weight, weldable, and unaffected by moisture. Its characteristic profile includes good corrosion resistance, high rigidity and permanent heat stability. PPH material is easily fabricated and machined and is suitable for contact with food. Ensinger's unique processing technology provides unsurpassed quality in TECAFINE™PP stock shapes. Ensinger also offers PPH in beige/grey.
For more information, contact Bruce Dickinson, Ensinger, 365 Meadowlands Blvd., Washington, PA 15301, 800-243-3221/856-227-0500, Fax: 724-746-9209, E-mail: sales@ensinger-ind.com, Web: www.ensingerplastics.com.
---
Efficiency & Performance
King Hy- Pact® is a high-performance polymer sheet for the food processing and packaging industry. It is the product of a proprietary process called K-Stran™, the most advanced manufacturing process of quality sheets with tight tolerances and custom widths up to 60".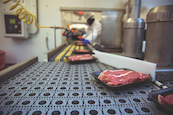 King Hy-Pact has a clean white color with a smooth, non-skived finish on both sides of sheet for better material flow. It is also available in black. King Hy-Pact is the smart choice for many high abuse applications requiring superior properties, outstanding flatness and a smooth surface while providing significant cost savings compared to UHMW. Applications include: gears, machine parts, sprockets, star wheels, wear strips, and more. King Hy-Pact polymer sheet is NSF listed to meet requirements of commercial food processing operations for direct and indirect food contact.
King Plastic Corporation is a leading manufacturer of quality polymer sheets, slabs and massive shapes - including several products pioneered by the company. Its polymers are made in the USA and sold worldwide through a network of top plastics distributors to customers who fabricate products for the marine industry (King StarBoard® brand), signage, food service, healthcare, architectural, industrial and other markets. King continues to raise the bar with new products, new production techniques and new standards of excellence.
For more information, contact Michael Fabbri, King Plastic Corporation, 1100 N. Toledo Blade Blvd., North Port, FL 34288, 941-493-5502, Fax: 941-497-3274, Email: sales@kingplastic.com, Web: www.kingplastic.com.
---
Food Grade UHMW
Nylatech, a leading manufacturer of cast nylon products for a variety of industries for 25 years, has developed a safer, longer lasting alternative for the food processing industry.
Nylatech now offers blue UHMW products for easy detection of parts contaminating food on the production line. All of their materials are certified and tested for safety and qualification in the food industry and deliver many benefits over alternative materials including exceptional resistance to wear and abrasion, high impact strength, they are self-lubricating, corrosion and chemical resistant, offer a low co-efficient of friction. high visibility and colors for increased safety and are lightweight.
For more information, contact Calvin Petersen, Nylatech, Inc., P.O. Box 455, Everson, WA 98247, 800-506-9566/360-966-2838, Fax: 360-966-2838, E-mail: info@nylatech.com, Web: www.nylatech.com.
---
Polyolefin Extrusions
Petro Extrusion Technologies, Inc. has been extruding polyolefin materials such as LDPE, MDPE, HDPE, LLDPE, and PP for 50 years.
Specializing in stock and custom thermoplastic extrusion in both tubing and profiles, PET offers extrusion of tubing sizes from 1/32" up to 8" in diameter, in all stock polyolefin materials. PET offers tool design capabilities, to extrude tubing in round, square or triangular shapes.
PET extrudes in homopolymer and copolymer poly - propylene materials, as well as some filled specialty grades of polypropylene.
PET offers custom capabilities in both tubing and pro- files, and has developed many dies over the course of its 50 years in business. They have over 50 stock colors available, along with customer cut length and angle cut capabilities.
In addition to custom capabilities in tube extrusion PET offers a line of stock LDPE channel profiles.
For more information, contact Mike Patterson, Petro Extru sion Technologies, Inc., 205B Hallock Ave., Middlesex, NJ 08846, 800-229-3338/908-789-3338, Fax: 908-789-0434, E-mail: sales@petroextrusions.com, Web: www.petroextrusions.com.
---
Thin Gauge Sheet
Ensinger Penn Fibre is ISO 9001:2015 certified and a leading manufacturer of thin gauge, high performance and engineering thermoplastics including sheets, coils, strips, punched and CNC parts.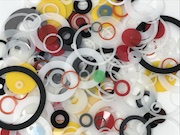 Various dimensions of sheets and coils are in stock from .010" to .250" thick, plus extensive options for custom size sheets, coils, strips and parts. In addition to their high performance and engineering plastics portfolio they offer a range of polyolefins (from .010" to .125" thick) in their Tecafine® product line including high density polyethylene (HDPE), low density polyethylene (LDPE) and polypropylene (PP) in natural, black and various colors. Their Pennite® LGF PP is a 20 or 30% long glass fiber reinforced PP that adds to the material melt strength and makes it very suitable for thermoforming applications.
Ensinger Penn Fibre has extensive experience manufacturing thin gauge polyolefins and converting their inhouse production of sheets and coils into various sizes of strips, punched parts, washers and CNC parts for a wide range of market needs.
For more information, contact Mark Kreisher, Ensinger Penn Fibre Inc., 2434 Bristol Road, Bensalem, PA 19020, 215-702-9551/800-662-7366, Fax: 215-702-9552, E-mail: epfsales@ensinger-ind.com, Web: www.pennfibre.com.
---
Smooth/Smooth Finish
Polymer Industries is now producing Polyslick® UHMW (ultra-high molecular weight polyethylene) with a smooth/smooth finish. While standard features of UHMW are the high durability for wear parts and ease of fabrication, the smooth/ smooth UHMW finish also provides an extremely flat sheet. The attractive, shiny surface finish easily vacuum seals to a router table and has no edge curl.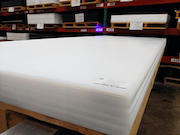 Polymer Industries is a leading manufacturer of polyolefin products, engineering plastics, and high-performance materials with over 45 years of experience.
For more information, contact Allie Wofford, Polymer Industries, 10526 AL Hwy 40, Henagar, AL 35978, 256-657-5197, Fax: 256-657-5189, E-mail: media.relations@polymerindustries.com, Web: www.polymerindustries.com.
---