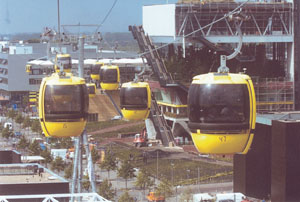 Europe's Largest Cableway Uses Vivak® Sheet for Window Glazing

Leitner S.p.A. window glazes its spectacular SKYLINER cableway that serves as the primary transportation system at EXPO 2000 in Hanover, Germany. The windows, bonded to metal frames, represent one of the most demanding applications for Vivak® UV high-quality thermoplastic sheet extruded by Makroform (Darmstadt, Germany) from Eastman Chemical Company's specialty plastic.
Mechanical strength, lightweight, impact strength. UV stability and high flame retardancy were among the key requirements specified by Leitner for glazing each cabin, which comprises three large thermoformed windows plus two smaller door lights.
In addition to providing a clear view for passengers, the glazing of cableways must be highly impact resistant to minimize the risk of breakage. In a more typical operating mountain environment, it is frequently exposed to impacts from leisure and sport equipment, such as backpacks, snowboards and skis, both at low temperatures and high solar irradiation. In many cases, the glazing is also incorporated in sliding doors, rotating covers and other moving parts.
Vivak UV sheet from Makroform, the world's largest producer of thermoplastic polyester sheet, is one of the toughest glazing materials in the market. It combines good physical properties with a wide range of design freedom, including ease of fabrication, forming capabilities and secondary finishing.
Sparkling clear and UV-stabilized, the sheet is an extremely versatile material that provides thinner-gauge sheet versus other sheet material used for glazing without sacrificing mechanical strength and three-dimensional thermoformability. This translates into significant material, weight, and cost savings in application as well as transportation and installation on site.
Vivak sheet has a proven fit in typical uses including displays, dispensers, signs, price tag and poster holders, machine guards, covers, trays and containers. Non-UV-stabilized grades are also available for food-contact and pharmaceutical applications.
The sheet can be hot or cold bent as well as vacuum-formed at low temperatures without predrying. It lends itself to the widest range of machining, assembly and finishing techniques from conventional saw to laser cutting, routing, welding, drilling and die-punching. It can be sand, solvent or flame polished and fastened with screws, rivets or bolts. It forms clear, strong bonds with commercially available cements and solvent adhesives and readily accepts screen-printing, painting and hot-stamping. Surface scratches or scuff marks can be removed using a common heat gun. Importantly, the high chemical resistance of Vivak sheet also means that it will not whiten in contact with common window cleaners.
For more information, contact Sharon Jones, Eastman Chemical Company, P.O. Box 431, Kingsport, TN 37662-5371, 423-229-2045, Fax: 423-224-0044, E-mail: spectara@eastman.com.