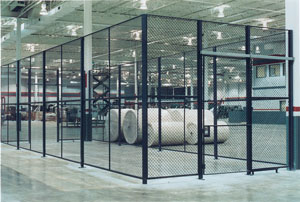 PARTITIONING WITH SELF-LOCKING FASTENERS

A woven wire partitioning system that features patented interlocking hook fasteners, which are totally concealed from the outside to create a secure internal area, is available from Wireway/Husky.
EZ® Wire Woven Wire Partitioning consists of modular diamond patterned wire sections that feature interlocking hook fasteners that slip into and lock securely in 2 ½" sq. posts. Providing a smooth exterior appearance, this partitioning can be permanently installed using aluminum drive pins. This design eliminates the need for nuts and bolts.
Available in standard 8 and 10 ft. panels, the partitioning can be built up to 30 ft. high, or more, and are available with a wide variety of accessories such as slide-up and drop-shelf windows, ceilings, single- and double hinged-, and sliding doors. Posts are made from 14 gauge steel and have 2 ½" x 5" pads which can be lagged to the floor.
For more information, contact Gregory C. Young, Wireway/Husky, Highway 16 / P.O. Box 645, Denver, NC 28037, 800- 438-5629, Fax: 704- 483-1911, Web: www.wirewayhusky.com.