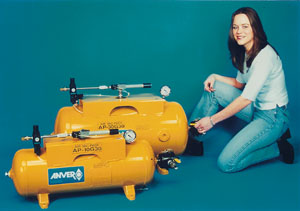 VACUUM SYSTEMS POWERED BY COMPRESSED AIR

A new line of explosion-proof, air-powered vacuum stations that are totally self-contained for clamping-, work holding-, and other vacuum applications is being introduced by Anver Corporation.
Anver Compressed Air Powered Vacuum Stations pull a 27" Hg vacuum and feature all pneumatic energy-saving circuitry which automatically shuts off compressed air consumption when the proper vacuum level is reached. Ideal for hazardous duty applications where electric pumps cannot be used, they come in four models with vacuum reservoirs from 5 to 30 gallons.
Supplied complete and ready to use, the vacuum stations include a dry, oil-free air pump, vacuum reservoir, muffler, ball valve for vacuum attach-release, an adjustable vacuum level control switch, gauges, manifolds, line filter, and an air regulator with a gauge and check valve.
For more information, contact Dave Fiscus, Anver Corporation, Components Group, 36 Parmenter Road, Hudson, MA 01749, 800-654-3500, 978-568-0221, Fax: 978-568-1570, E-mail: sales@anver.com, Web: www.anver.com.