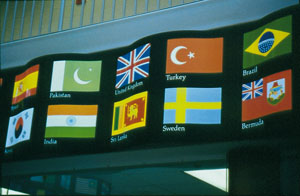 FOAMED PVC

"I had used many variations of fabric banners and flags in past projects but wanted to provide my client, Breckinridge Middle School, with a unique display of flags," said Marc Waller, president of Thayer Design. For the atrium of the Roanoke, Virginia, school, Thayer created a display of flags representing 48 nations.
For the display, 3mm black Sintra® Material, rigid board of foamed polyvinyl chloride (PVC), was curved into "waves." The depth of the curved waves was 8 inches. The flag images were printed onto self-adhesive vinyl and then mounted to the material. Kirtis Kwik Signs of Lynchburg, Virginia, supplied the flag graphics and installed the display.
Waller chose a rigid display over one made of fabric for several reasons. "Sintra Material provides a lightweight, smooth, hard surface that is resistant to wear and is easy to clean - all at a very reasonable cost. It also lends an innovative look that was well integrated into the architecture of the lobby itself," he said.
For more information, contact Customer Service at Alusuisse Composites, Inc., P. O. Box 507, 208 West 5th Street, Benton, KY 42025, 800-626-3365, 270-527-4200, Fax: 270-527-1552, Web: www.alusuisse-comp.com.