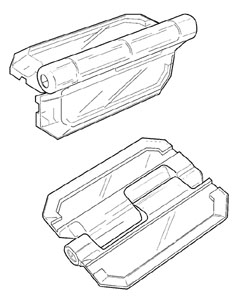 DECORATIVE HINGE

ABC Plastics, Inc., manufacturers of injection-molded plastic, display hardware, introduced the Deco-Hinge™. The decorative hinge has faceted edges to enhance the appearance of any display. Its design, construction, and heavy wall thickness provide maximum tensile strength.
Molded in acrylic DR101 or ABS, the hinge is solvent bondable to acrylic, ABS, styrene and polycarbonate. Measuring 1.75" L x 1.5" W x .16" T, it is available in clear or black.
For more information, contact Geno Norraik or Carol Nowotarski, ABC Plastics, Inc., 9132 DeSoto Avenue, Chatsworth, CA 91311, 818-775-0065, Fax: 818-775-2975, Web: www.abcplastics.com, OR Mark Walters, Deco-Plastics, Inc. 11870 W. State Road 84, Suite C-8, Davie, FL 33325, 984-382-2008, Fax: 954-382-9303.