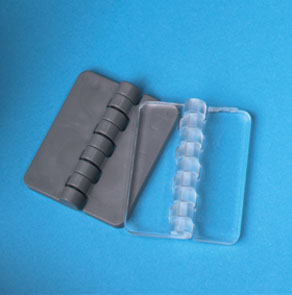 VERSATILE HINGES

Allen Company, a custom manufacturer of machined and fabricated metal and plastic products, introduced the "Multi-Hinge." The heavy-duty plastic hinge is suitable for a variety of applications in commercial and industrial environments.
The Multi-Hinge is available in several materials, colors, and configurations (flush or offset). The same hinge can actually be assembled for either flush, or 3/8" offset mounting simply by reversing one leaf. Choose the combination that best meets your needs for appearance, rigidity, and heat or chemical resistance. Heat or solvent welding can be used to fasten these hinges, or they can be mechanically fastened. The availability of these options makes it one of the most versatile on the market today.
For more information, contact Jeff Swenson, Allen Company, 7505 Washington Ave. South, Edina, MN 55439, 952-829-1831, Fax: 952-829-5721, E-mail: sales@allenplastics.com, Web: www.allenplastics.com.