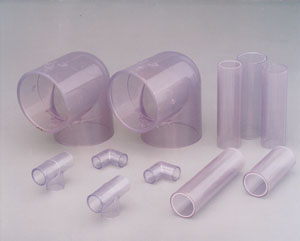 CLEAR HPC PVC PIPING SYSTEM

Flo Safe has announced the introduction of a new line of plastic pipe and fittings for industrial use. Called Flo Clear HPC for High Purity Clear, the new product line is molded from Polyvinylchloride (PVC). It is important to note that both pipe and fittings are molded from identical clear PVC resin to ensure system uniformity and consistency in clarity. This provides the utmost in visual control and inspection of fluids carried by the piping system.
HPC products are manufactured from FDA (Food and Drug Administration) Title 21 and NSF (National Sanitation Foundation) Standard 61 Drinking Water Systems Components-approved materials. In addition, all HPC components are manufactured in strict accordance to applicable ASTM and Schedule 40 Standards and Specifications.
Flo Clear HPC systems are available in sizes from ½" through 6" IPS sizes with "Streamline" socket style fitting configurations.
For more information, contact Charles Loth, Flo Safe, Inc.,100 E. Quindaro Blvd., Kansas City, KS 66115, 800-517-2002, Fax: 800-777-1653, Web: www.flosafe.com