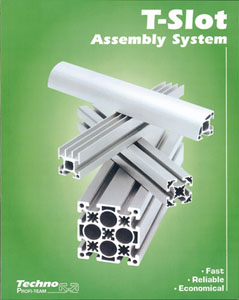 T-SLOT ASSEMBLY SYSTEM

A new 120-page T-Slot Assembly System catalog from Techno Profi-Team greatly simplifies the building of everything from lightweight fixtures to heavy-duty machine bases. Typical applications involve their use in: robotic systems, machinery guards, furniture, and displays. Now you can quickly build your own customized machine frames, ergonomic work stations, safety enclosures, partitions, dollies and carts, trade show displays, plus racks and shelving - with little labor and without welding or painting. You simply bolt the elements together to turn your ideas into a finished reality.
The catalog, identified as H515, provides detailed specs for a broad range of 34 extrusions to choose from in sizes ranging from 20 x 20 mm to 90 x 90 mm and in lengths up to 6 meters. In addition, 8 mm and 10 mm T-slot systems are available. The product line consists of a wide array of extruded aluminum profiles interconnected by an extensive range of joining and fastening elements. Structures can be built using simple hand tools. Slots in the extrusions accept T-bolts and nuts for fastening. Techno will ship extrusions precut to customer specifications or in bulk lengths.
The catalog shows typical Techno Profi-Team parts transfer systems for automation applications. These complete systems, which are built to customer specifications, feature flexible pallet sizes, pallet loads of up to 2,000 lbs., speeds of up to 700 in./min., plus 90° and 180° turns and turntables.
For more information, contact Herb Arum, Techno Profi-Team, 2101 Jericho Turnpike, P.O. Box 5416, New Hyde Park, NY 11042-5416, 516-328-3970. Fax: 516-358-2576. Web: www.techno-profi.com.