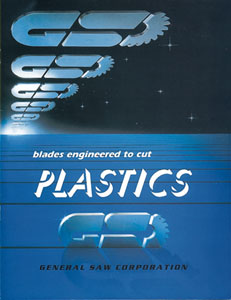 SAW BLADES FOR PLASTIC

General Saw Corporation offers a full line of plastic cutting saw blades. Engineered to cut everything from acrylics to nylon and polypropylene, their blades cut cleaner, cooler, and chip free. Their catalog illustrates why you should choose saw blades specifically designed for cutting plastics, recommendations for cutting acrylic, and a discussion of the importance of quality re-sharpening. Easy to follow charts help customers find the right blade for their specific machine and cutting needs.
Also offered are saw stiffing collars which help reduce blade vibration and the possibility of chipping the material being cut. By reducing the plate vibration, stiffing collars also allow the blade to run quieter.
For more information, or a copy of their brochure, contact Roman Kordecki, General Saw Corporation, 2518 Andalusia Blvd., Cape Coral, FL 33909, 800-772-3691, Fax: 239-574-5328, Email: info@generalsaw.com, Website: www.generalsaw.com.