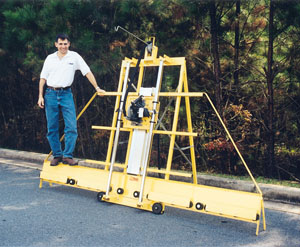 LIGHT DUTY PANEL SAWS

Saw Trax, a manufacturer of vertical panel saws, offers two new models that combine the features of their full size saw, in smaller, more portable and economical packages.
"The idea behind these two new series of panel saws is to have a customer save money by only buying as much panel saw as they need," says Michael Della Polla, a Saw Trax spokesperson. "Sign materials are not as heavy as other full size sheets. Why should a sign company pay for the heavier frame?" Della Polla went on to say, "Builders need a panel saw that can be broken down quickly and be easily moved from job site to job site.
Their new Sign Makers full size panel saw is designed to handle the lighter weight materials normally used by sign shops. The material roller supports are the same as in their Heavy Duty saws. The difference is in the frame supports. A lighter duty ¼" X 1 ¼" thick steel bar is used as a back frame support. The frame end support is provided by two steel ¼" X 1 ¼" thick adjustable legs. This design will more than handle the materials used in the sign industry. The advantage of this panel saw is a lower initial cost and easy access behind the panel saw for storage.
Their new Builder series of panel saws uses the same material rollers as in the Heavy Duty panel saws. The difference is there is no frame support outside of the main frame. This design allows the machine to be moved as a 5.5 ft. wide machine unit. Once in place, the material rollers are attached within minutes turning the unit into a 10 ft. wide frame. The end support legs can also be adjusted for uneven terrain. With the folding stand and 5" wheels, this panel saw is easily transportable. The saw plate and saw can be detached and removed allowing the saw to be taken home by the user. The machine can be secured at a job site without worry of weather or theft. The user has the option of taking the entire machine with them each day or leaving it at the site.
For more information, contact Michael Della Polla, Saw Trax Mfg. Inc., 3790 Hwy.92, Suite 220, Acworth GA 30102, 888-SAW-TRAX (888-729-8729), 770-974-0021, Fax: 770-975-1618, E-mail: sawtrax@aol.com, Web: www.sawtrax.com.