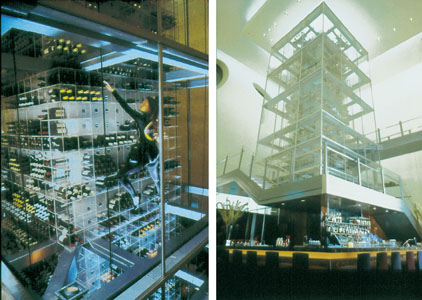 World's Tallest Wine Rack

Las Vegas Restaurant Features Four-story Acrylic Wine Tower
It's a four-story acrylic "cellar in the sky". Clad in black bodysuits and rock climbing gear, "Wine Angels" scale the 42-foot structure to collect wine for discriminating patrons. Where else but Las Vegas - a city with eight million annual hotel guests and a reputation for over-the-top interior design. When the Mandalay Bay Resort & Casino opened its 3,700-room resort to guests, it took its interior to new heights by installing the tallest wine rack in the world within its Vegas version of New York chef Charlie Palmer's Aureole restaurant.
Patrons enter the restaurant via a catwalk-style bridge and stairway that spirals around the wine tower, which sits atop the 64-foot square room center, making it the focal point of the restaurant. In addition to its functionality of housing wine, the rack acts as an entertainment piece and adds to the rooms ambiance.
This monumental structure must maintain its stunning appearance and stability, which accommodates the weight of approximately 16,000 bottles plus the "Wine Angels", a true challenge for fabricator, Perry Youssefy, president of Crystal Craft (La Verne, CA).
"We needed to use a dense cell-cast acrylic material for this tremendous structure," explained Youssefy. "We chose CYRO Industries' ACRYLITE® GP acrylic sheet for its lightweight, high-impact strength, excellent optical clarity, and its ability to withstand expansion and contraction due to the refrigerated sections of the tower."
Chilled To Perfection
The white wine sections of the tower must be kept at 40° F. To allow for cool air circulation and to keep the temperature continuous, 2 1/2" holes were drilled into the refrigerated inner core at the back of the white wine cavities. The red wine section backs remained closed.
"This material is able to handle expansion and contraction due to temperature changes," said Youssefy. "Our fabrication technique allowed enough room for this purpose, otherwise the piece would fall apart."
Initially built in four towers, the wine rack was freighted to the assembly site. Each tower measured 12"D x 8'W x 42'H. Crystal Craft used 1/2" thick acrylic sheet for five to ten shelf modules, which hold anywhere from five bottles to a case of wine. To secure the structure and hold modules together (some as large as 8' x 11'), stainless steel screws and inserts were used.
"Cementing was a pivotal issue because poor bonding causes the structure to sag or fall apart. Plus, proper cementing protects the structure from moisture penetration," added Youssefy. "ACRYLITE GP sheet responds positively to bonding and gluing, 99.9 percent of the time."
Heavy cement that contained both resin and hardening components, was used. "It is heavier than liquid cement and fills up all cavities. It must be machined, sanded, and polished. Ultimately, it becomes extremely strong, remaining stable in terms of expansion and contraction, just like the acrylic," said Youssefy.
Neon lighting was used to illuminate the inside of the tower. To accommodate this, translucent white acrylic sheet was used to diffuse the light.
The wine cavities were notched together, horizontally, inside the modules. This was necessary to avoid one section pushing too hard against another, which could cause deformation or crazing. The design also had to compensate for the potential weight of a full rack, 16,000 bottles.
"We made these horizontal shelves with negative/positive notches, and depending on the length and size of the module, a gap of 1/32" to 1/16" was implemented. Each had to be perfectly notched together or the glue joints wouldn't hold," explained Youssefy.
The Finished Project
Despite a tough challenge and tight timeframe, the Mandalay Bay debuted its "cellar in the sky", on time, after six weeks of 22-hour workdays.
For more information, contact: Dave Mawicke, CYRO Industries, 100 Enterprise Drive, Rockaway, NJ 07866-5055, 800-631-5384, 973-442-6093, Fax: 973-442-6117, Web: www.cyro.com.