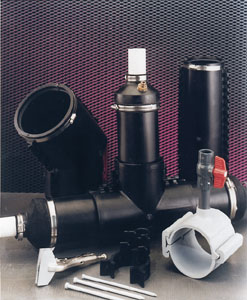 GASKETED SECONDARY CONTAINMENT SYSTEM ANNOUNCED

Orion Fittings, Inc., a manufacturer of plastic pipe and fittings for industrial use, has introduced a new outer gasketed secondary containment system for pressure or drainage applications.
The Rionguard system, featuring a split fitting joining method, can be installed with virtually any type of carrier pipe including plastic, glass and metal. The split fitting design allows for testing and inspection of carrier pipes before installation and testing of containment systems.
The products are available in a choice of flame-retardant or non-flame retardant polypropylene material. Available 4" and 6" sizes can contain carrier pipe from ¾" to 4" in diameter.
For more information, contact Chris Ziu, Orion Fittings, Inc., P.O. Box 17-1580, Kansas City, KS 66117, 913-342-1653, Fax: 913-342-7218.