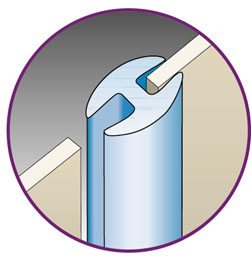 EXTRUDED "H" MOULDINGS

Barbour Plastics, Inc. offers several styles of flexible "H" mouldings to fit a variety of applications. Extruded from a strong, high impact grade PVC thermoplastic material, these extrusions are ideal for joining panel seams. The flexibility of these pieces allows them to bend and contour to desired applications.
Mouldings are available in stock colors or can be extruded to your specifications with either a low or high gloss finish. Extrusions can also be cut to length, punched, drilled or heat formed for customers specific applications.
For more information, contact Mike Casey, Barbour Plastics, Inc., 1001 N. Montello Street, Brockton, MA 02305, 508-583-8200, Fax: 508-583-4113, E-mail: sales@barbourplastics.com, Web: www.barbourplastics.com.