PLASTIC WELDING: Prototyping

The subject of Prototyping is vast. This article is not intended to cover all the various methods available and will focus only on the welding aspect for building prototypes. Prototyping can also be done on the computer with certain programs, with epoxy materials and with silicones.
Customers often like to see and touch a prototype of the actual part before they purchase it. This is especially true when you are in a mass production business such as, injection molding, extrusion or rotation molding, or even in fabrication. The reason is obvious. Because molds and dies are fairly expensive, no one wants to invest in a product whose final finish is uncertain? So, to first build a prototype of your client's part is often essential. Depending on the size, shape, and material, the costs for the trial product will vary. Changes can be made quite easily and cost efficiently at this stage of development. It is not always possible to change your carved injection mold. And if it is feasible, most of the time it is very expensive. Another advantage of a prototype is that you and your customer will be able to take the part and go out in the field to try the piece in a real-life situation. Necessary changes can be made until you are both satisfied with the product. Then you can start the production with the confidence of knowing that the parts will work.
The delicate part of building a prototype is to make it as close as possible to the end product and strong enough to fit the application. Some parts might be too large to prototype in actual size, a reduced size proptotype could be a solution (with agreement of the client of course). This will give you a feel for the function and behavior of the final product. You can find models of entire buildings with pipelines, tanks and machines, special containers with certain functions, caps with special shapes, furniture, automobile parts and so on. The topic of prototyping is very large and knows almost no limits. As mentioned at the beginning, all parts for mass production should have a prototype piece first to save time, money and frustration.
So, what is the best way to create a prototype? First you must sit down with your customer to understand their needs. Sometimes it will be necessary to make changes to the original design in order to be able to manufacture the part. The selection of the proper material(s) that will perform well in the application is also important. A lot of consulting is involved at this stage. You should not start building the first prototype until you have finalized the design and the material.
Depending on the selected material you can use adhesives or welding as fabricating options. Screws or bolts etc. should not be used unless the final product will contain them as well.
You can use different welding equipment to perform the welding jobs. Because of the wide tip selection, you can make very small to fairly big weld beads. A special prototyping tip makes it easy to work in tight and narrow areas.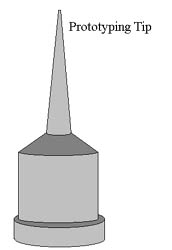 An injection welder is very flexible in prototyping applications. It uses one size of welding rod which will reduce your need to stock different sizes. A large variety of thermoplastics can be welded with this unit. Because it is operated with only one hand, it allows you to use the second hand to hold or turn the parts.
Other welding units, such as stick welders, require both hands and use different sizes of welding rod and require special surface treatment in advance. Spot welds are not possible and tight areas could be quite hard to reach. To make certain kinds of prototypes, this equipment is good and inexpensive. If the weld area is reachable and the operator knows how to weld with a hot air welder, you will find applications for these units. But they are limited in performance and weld strength. If you work with thermoformed parts (vacuum formed or press formed), you might run into some problems with the airflow - it is very difficult to control. The hot air hits the surface and will spread out in all directions. Formed parts contain a high amount of stress inside the material, when the hot air hits the stressed areas, burn holes may occur. Injection welders avoid this problem because they use heated aluminum tips so the heat is concentrated in a small area.
Hot plate welders can be helpful, if the parts have the same shape. Spin welders are good for welding round parts. Only for heavy fabricating will you find extrusion welders. Normally, they are not used in prototyping smaller jobs. The most common units used for prototyping are the injection welders and hot air stick welders. These units will give you the most flexibility to make different weld styles. To be covered for the prototype business, you should have at least one of each.
If you like to use adhesives instead of welding to build your prototypes, you need to know the behavior of the plastic material and the adhesive. Polyolefines are very hard to glue. Depending on the application, the adhesive needs to meet the conditions where the parts will be used. Remember it is necessary to test the prototype in real life situations. Temperature, chemicals or flexibility etc. of the prototype could be factors. This goes back to the consulting stage and the knowledge and experience of your employees. You cannot expect your client to know all of these parameters.
Prototyping for mass production is a very important step to being more cost effective and customer orientated. It is also a good market to pursue. The better your prototype is the better and faster you can produce the end product. To understand the customer's needs, to know the different part applications, and knowing the plastic materials and how to work with them, is the key to making great prototypes. Please contact me with any questions regarding prototyping or other thermoplastics welding concerns.
For more information, click on the Author Biography link at the top of this page.