PLASTIC PERSPECTIVES

The most optimistic soothsayers are convinced that some 40 percent of all chemical and plastics transactions will be done by e-commerce in less than five years. Our spot survey done at the last IAPD National Convention in Phoenix in October was less optimistic. It appears that our industry's e-commerce efforts are like a marathon - some companies further along than others. Not only that, but companies are utilizing different business models for conducting e-commerce, such as direct links with business partners, on-line exchanges and even - yes - independently charging in.
While most industry members we have talked to agree e-commerce will become an important part of doing business, most companies have been slow to embrace it - although we estimate over 75% of members of IAPD have put up a website to at least advertise their company. There is a segment that believes it can do fine without e-commerce - why should they offer it if only a small percentage of customers and suppliers want it? Others fear if they conduct business online, customers may turn to third party dot-com companies, where they may be able to obtain products at a lower price.
These are all valid concerns but like a child learning how to walk, e-commerce implementation will not occur overnight, but rather in small steps. It may take years to link the majority of the supply chain and possibly just as long for fabricators, suppliers and end users to teach the critical mass of volume necessary to benefit as well. The two factors that may change the timing of all of this is the baby GE elephant, who has already started walking and is about to run. Watch for GE Plastics e-commerce initiative to possibly change the current scenario of watch and wait to let's jump in before the other guy gets a head start. The other significant entry is Grainger.com. The big get bigger fast and the small get bigger faster, if they harness the power of the internet.
Let's examine briefly what the internet brings to b to b commerce or commerce generally - which is more important - price or availability? Start from the observation that the internet cuts the marginal cost of information to zero; that is after the initial costs of starting a website or buying a computer which may be high, but once you are ad up and online, the cost of sending and receiving one extra piece of information is almost zero. Now the internet has done two things - it helps buyers and sellers of products and services find each other and secondly it becomes possible to set prices in innovative ways. Thus the attraction for buyers is not the power to set the price; it is simply the choice of products - especially true in finding surplus inventory at prices accordingly. Thus the information revolution is with us! Use it as it best fits your business plan.
An interesting, but overlooked fact is that the fax machine, which was supposed to be made obsolete by e-mail and the internet, is alive and well - in fact, sales are still at about 6 million units per year(vs 500,000 in 1986) - of course prices have come down dramatically, from the $2,000 average in the 1980's to as low as $200 today. In addition new models will allow you to punch in an e-mail address, send a fax and your document will end up in the recipient's inbox as an attached image file. What is the next new thing to "replace" e-mail? What will our industry look like at this time next year?
Speaking of our industry - some facts from SPI (www.plsticsindustry.org)
The U.S. Plastics lndustry: Strong and Growing
15 million jobs - up 25% since 1994
$304 billion in shipments - up 35%
23,000 facilities
15% of jobs due to exports
$5.2 billion annual trade surplus
The Power of Plastics:
When upstream, supplier industries are included, the impact of the U.S. plastics industry grows to 2.4 million jobs and $393 billion in shipments.
Plastics industry employment has grown steadily since 1974, increasing at a 2.7 % rate, while overall manufacturing employment decreased by only 0.1%.
Since 1991, U.S. plastics industry shipments have grown 50%.
Plastics manufacturing is an increasingly global industry, with plastics consumption growing at 5.6% annually from 1989-1999.
Outlook for 2001? Higher energy prices will siphon off some strength in 2001, dampen growth and nudge inflation higher - but overall a good year.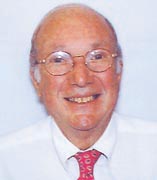 Melvin (Mel) Ettenson is the Editor and Publisher of The Global Plastics Newsletter, a monthly source of news and information for management level individuals involved in the plastics sheet, rod, tube, and film industry. Ettenson has over 40 years experience in the industry and holds a B.S. in Engineering from Lowell Technological Institue and an M.B.A. from NYU. He can be reached at 248-258-5657, Fax: 248-258-0851.
For more information, contact the author via the contact information listed at the article header and footer.